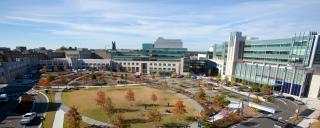 Mission
We pledge to provide expert, compassionate and prompt clinical service to our patients; to generate new knowledge concerning causes, prevention and treatment of cancer; to transmit new knowledge from our clinical and laboratory research; and to actively participate in and further the missions of the Duke Cancer Institute, Duke Health and Duke University.
---
Vision
We envision the Department becoming a globally preeminent academic radiation oncology department; recognized for exceptional clinical care, the conduct and reporting of important research and the practice of effective teaching.
As one of the largest and most active academic radiation oncology programs in the country, we recognize our responsibility to the public we serve.