The objective of the Radiation Therapy Physics Residency Program is to train individuals with medical physics and related education to practice professional radiation oncology physics. The program will provide comprehensive structured education and training in a clinical environment. The resident will be, upon completion of the program, competent in radiation oncology physics practice and implementation of new technology, and prepared to sit for the certification examination of the American Board of Radiology in Therapeutic Radiological Physics. As an option, the program will help the resident pick a research project that is likely to be completed with the residency period, to prepare the resident to be a leader in developing new technology in medical physics.
The Duke Radiation Therapy Physics Residency Program is now accepting applications for residency starting in July 2023. Click here to submit your application though the MP-RAP.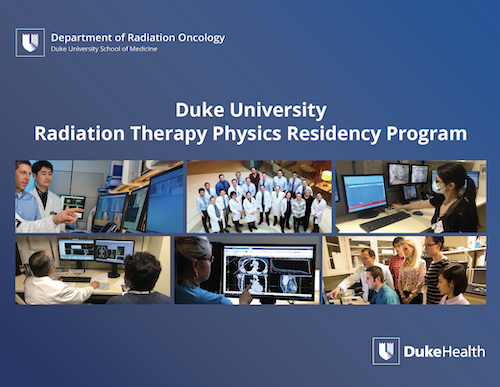 Click here to download our Duke Radiation Therapy Physics Residency brochure.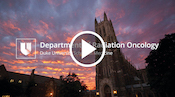 Watch our Duke Radiation Therapy Physics resident recruitment video and hear from current residents, faculty, staff and alumni about what makes Duke Radiation Oncology a great place to train.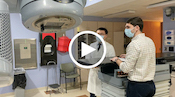 Watch our A Day in the Life of a Duke Radiation Therapy Physics Resident video. Follow resident Thomas Cullom as he works on SRS/SBRT cases, checks the mechanics and dose rate of a machine with Duke engineers, performs monthly QA tasks, takes OSLD dose measurements and more.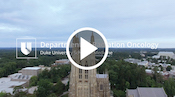 Watch our virtual tour video – walk through our Duke Cancer Center and Durham VA clinics, learn about our equipment, say hi to members of our wonderful team and more.
The Department of Radiation Oncology treats over 1800 patients at Duke University Medical Center and also provides professional and technical coverage for eight affiliated facilities. Equipment at Duke Hospital includes 8 modern LINAC accelerators, including 6 TrueBeam machines, all with OBI/CBCT for IGRT and gated treatment, 1 conventional simulator with CBCT capability in a brachytherapy suite, 2 large-bore CT simulator, 1 PET/CT, 1 MR unit, 2 HDR units, networked ARIA information system and Eclipse treatment planning systems across the system. Special procedures include SRS, SBRT, IMRT/IGRT, prostate seeded implant, HDR, IORT and TBI/TSI. In addition to clinical coverage, the division of radiation physics also provides physics teaching for graduate students in medical physics, both radiation therapy physics and radiation oncology residents, and medical students from Duke medical school. Active research programs mainly involve IMRT/IGRT, 3D dosimetry, oncologic and biological imaging, big data analytics and radiogenomics, modeling of radiation damage for normal tissues and of tumor control using radiation, advanced MR imaging, stereotactic radiosurgery, stereotactic body radiotherapy and image-guided brachytherapy.
The clinical training period is 2 years. Occasionally we offer positions combining 2 years of clinical training and 1 or 2 additional years of research.
This program is accredited by CAMPEP (the Commission on Accreditation of Medical Physics Educational Programs, Inc.).
 
Contact Information
Colleen Tuohy
Program Coordinator
Colleen.tuohy@duke.edu
919-660-2180