Fang-Fang Yin, PhD, has been named the Gustavo S. Montana Professor of Radiation Oncology, effective July 1, 2021.
Dr. Yin is a professor in the Department of Radiation Oncology. He serves as the Division Chief for Radiation Physics in the Department of Radiation Oncology; he is also a member of the Duke Cancer Institute, the Director of the Medical Physics Resident Program in Radiation Oncology, one of the Founding Executive Leaders of the Duke Medical Physics Graduate Program and the Founding Leader of the Medical Physics Graduate Program at Duke Kunshan University.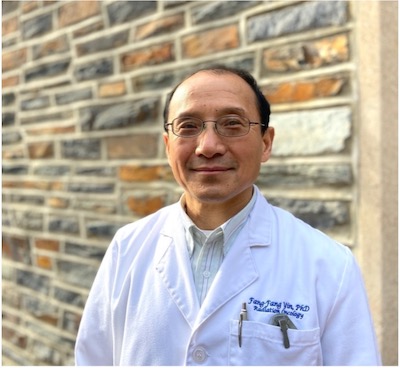 An internationally recognized expert in advanced radiation treatment techniques, Dr. Yin is a compassionate academic and clinical medical physicist. He has developed various image-guided techniques and machine learning methodology to enhance and secure delivery of intensity-modulated radiation therapy, stereotactic body radiation therapy (SBRT) and stereotactic radiosurgery (SRS), and is considered a pioneer in these areas. He served as PI or co-PI for over 10 research grants from NIH and industries and as a grant reviewer for NIH and State DOH research proposals, and he has over 300 peer-reviewed publications and 5 patents in related fields. He has supervised over 40 graduate students and post-graduate Fellows at the University of Rochester, Henry Ford Health System, Wayne State University and Duke University.
Dr. Yin is active in many different professional societies, including the American Association of Physicists in Medicine (AAPM), the American Society for Radiation Oncology (ASTRO), the American College of Radiology and the International Stereotactic Radiosurgery Society. In these societies, he has acted in leadership roles in many committee activities and has participated in task groups for developing professional physics practice guidelines for advanced radiation therapy treatment techniques. He has been named a Fellow of AAPM and ASTRO.
Dr. Yin attended both Zhejiang University and Bowling Green State University and graduated with BS and MS degrees in Physics. He received his PhD in Medical Physics from the University of Chicago in 1992. He served as faculty in radiation oncology and biomedical engineering at the University of Rochester from 1992 to 1998 and before becoming the Division Head of Physics in the Department of Radiation Oncology at Henry Ford Health System with an adjunct professorship at Wayne State University between 2003 and 2005. Dr. Yin joined Duke in 2004 as Professor in the Department of Radiation Oncology and Division Chief for Radiation Physics.
Dr. Yin has a demonstrated commitment to women's health and the research and treatment of breast and gynecological malignancies. His PhD thesis research was focused on automatic detection and classification of breast cancers using artificial intelligent methodology. He served as PI for an American Cancer Society institutional research grant funding an investigation of computerized methods for the radiation treatment of breast cancer; he also served as the Primary Mentor for a Predoctoral Traineeship Award focused on metastatic breast cancer from the Department of Defense Breast Cancer Research Program. In early 2000, he pioneered the development of radiosurgery treatment techniques for metastatic spinal disease from breast cancers. Since 2007, he has been the course director and instructor for Duke's Advanced Image-guided Radiation Therapy course and Radiation Therapy Physics course (for Radiation Oncology MD residents). Dr. Yin has published numerous articles and papers on the treatment of breast cancer and gynecological cancer; his research has advanced the field and led to improved treatment methods of women with these malignancies.  
---
About the Gustavo S. Montana Professorship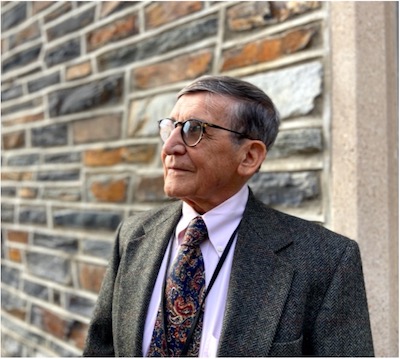 Gustavo S. Montana, MD, is a Professor Emeritus of Radiation Oncology. He served as professor in Duke's Department of Radiation Oncology and as Director of Radiation Oncology at the Durham Veterans Affairs Medical Center. Dr. Montana's extensive practice focused on the diagnosis and treatment of gynecologic malignancies. As a researcher he is known primarily for his work to minimize long-term side effects of surgery and radiotherapy in the management of cervical cancer, for which he has received international recognition. Dr. Montana received his MD from the National University in Bogota, Colombia in 1960. After his residency at Yale, and service on the faculties at Yale, Harvard and Vanderbilt, he joined the Division of Radiation Oncology at UNC-Chapel Hill, where he served as Director from 1971 to 1982. In 1983, he joined the Department of Radiation Oncology at Duke. In 2001, Dr. Montana was honored by the establishment of the Gustavo S. Montana Professorship in Radiation Oncology within the Duke University School of Medicine. 
Duke Distinguished Professorships recognize exceptional achievement and extraordinary scholarship in advancing science and improving human health. Recipients of Distinguished Professorships are recommended by the School of Medicine's Distinguished Professor Committee; recommendations then must be approved by the Dean and the Provost.
In honor of Dr. Montana's commitment to treating and researching gynecological and breast cancers, the Gustavo S. Montana Professorship is specifically awarded to faculty involved in the study of these areas and the treatment of women's malignancies.
The first recipient of the Gustavo S. Montana Professorship was Mark Dewhirst, DVM, PhD, a professor in the Department of Radiation Oncology and Vice Director for Basic Science in the Duke Cancer Institute.