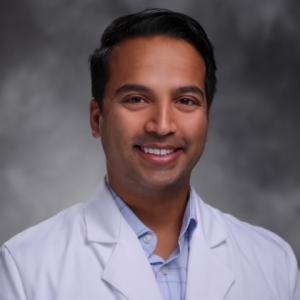 Resident, Radiation Oncology, Class of 2025
Medical School
University of California, San Diego School of Medicine
Intern
University of California, San Diego – Internal Medicine
Why Duke Radiation Oncology?
Duke Radiation Oncology is a historic program with a long tradition of excellent clinical training. Graduates of Duke Radiation Oncology have become leaders in both academic and private practice radiation oncology. Duke specifically has the Durham Veterans Affairs rotation experience, which sets Duke apart as it is an innovative, resident-led service to promote autonomy and leadership. The Durham VA rotation prepares residents well to transition into independent attending physicians.
Why Durham?
Durham is a diverse and delightful city with plenty to do. It is an artistic city with restaurants, breweries, performing arts, hiking trails, and more. More importantly, it is affordable for residents.
What do you like to do outside of Duke?
I like to spend time with my fiancé and puppy walking around Durham. We love to try new restaurants around the triangle area. Lately, we have been doing day trips to the beach.
Clinical and research interests?
Health services research: cost-effectiveness of cancer treatments, the validity of using observational data for comparative effectiveness research, oncologic outcomes of Veterans with cancer, use of mobile technology in collecting patient reported outcomes
What were you looking for in a residency program?
I was looking for a program with strong clinical training and a long history of excellence
What are the strengths of Duke's residency program?
High patient volumes, Durham VA rotation, approachable attending physicians, excellent resident colleagues
What advice do you have for incoming residents?
Don't be afraid to be yourself. Ask questions and share your opinions. Though you are in training, you are a valued colleague.