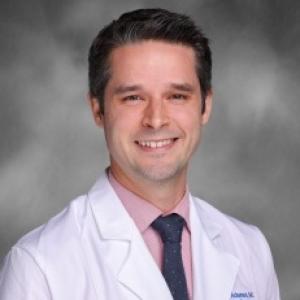 Resident, Radiation Oncology, Class of 2023
Hometown
Portland, Oregon
College
BYU
Medical School
Duke University School of Medicine
Why Duke Radiation Oncology?
I loved my time here as a medical student for many reasons. The people here at Duke are passionate, brilliant and kind. This makes for a special environment as a trainee. I sought high-quality clinical training and tailored/mentored research opportunities. But most importantly, I love the people I work with. They are passionate about what they do, and that is both contagious and fun! I work with people that make me want to be a better physician and person.
Why Durham?
Durham is a wonderful place to live. I love the restaurants, proximity to the outdoors and the affordable cost of living allowing for space to work and play. We have a big space on our single income resident salary, and our forest, trampoline and massive garden don't even touch our lawn used for soccer and cornhole. I love the supportive, multidisciplinary community across the university system which provides endless opportunities for everything from collaborations to intramurals. I love Duke Basketball! Great weather, easy/no commute, free parking everywhere, mustard-based BBQ, fishing, close to beaches and mountains, high quality adult soccer and tennis leagues, the list goes on and on. 
What do you like to do outside of Duke?
I enjoy the outdoors, soccer/basketball/running/tennis, Star Wars and cooking (because it leads to eating). I also love trying not to step on my kids' LEGO that litter every square inch of our floor.