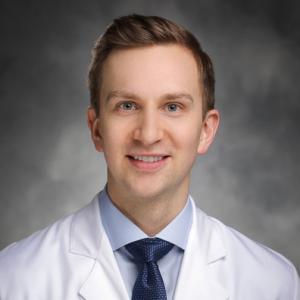 Resident, Radiation Oncology, Class of 2023
Start Year
2019
College/University
Syracuse University
Medical School
Duke University School of Medicine
Clinical and Research Interests
My research interests include decision making sciences and clinical trial design.  I have also studied radiation toxicity and long-term survivorship for prostate and head and neck cancers. 
What were you looking for in a residency program?
Excellence in clinical training in a supportive environment
What are the strengths of Duke's residency program?
Faculty mentorship, amazing co-residents
What advice do you have for incoming residents?
Prioritize getting to know all the wonderful people within the department who want to help you succeed.
What do you like best about living in Durham and the Triangle?
Hiking around the Eno River State Park and spending time in Durham's American Tobacco Campus District.
What do you like to do outside of Duke?
I enjoy playing saxophone, chess and spending time with my wife and son.
Awards/Honors
UL1 NIH Clinical and Translational Science Award
T32 Head and Neck Surgery Clinical Research Fellowship