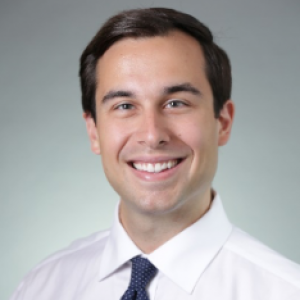 Resident, Radiation Oncology, Class of 2024
Hometown
Shrewsbury, NJ
College/University
Harvard College, 2014
Medical School
Harvard Medical School, 2019
Business School
Harvard Business School, 2019
Clinical and Research Interests
My research interests include the use of radiation therapy for the treatment of brain tumors, the intersection of radiation therapy and immunotherapy in cancer treatment, health services research and global oncology.  
What were you looking for in a residency program?
A world class training in clinical care and research in a supportive environment with exceptional co-residents and faculty.
What are the strengths of Duke's residency program?
The clinical training, research opportunities, faculty mentorship and exceptional co-residents and staff at Duke are truly unmatched. Duke offers a world class training led by leading academic radiation oncologists and prepares residents for any career path, whether that means becoming a physician-scientist, continuing in academia and designing clinical trials or working in the community in a private practice setting. The protected, funded research year is a unique experience that allows residents to pursue their research interests and build the foundation for their career after residency.
What advice do you have for incoming residents?
Build relationships with co-residents and faculty who are eager to be mentors and want to help you excel. Seek support early in your training, and take time to pursue interests outside of medicine.
What do you like best about living in Durham and the Triangle?
The research triangle is a vibrant, diverse community with a thriving research and clinical environment, coupled with the benefits of great weather, affordable living and a rich history and culture. The area also offers easy access to hiking trails, forests and beaches for outdoor activities.
What do you like to do outside of Duke?
I enjoy running, traveling and spending time with family and friends.
Awards/Honors
Massachusetts Medical Society Scholar Award
Robert K. and Myra H. Kraft Healthcare Fellow
National Neurosurgery Research and Education Foundation (NREF) Research Fellow
Summa Cum Laude, Highest Honors in Neurobiology
John Harvard Scholar