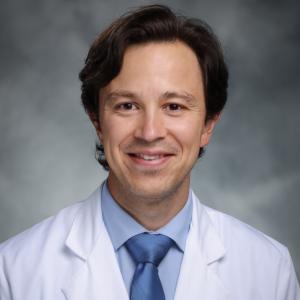 Resident, Radiation Oncology, Class of 2026
College
University of Washington
Medical School
University of Virginia
Intern Year
Eastern Virginia Medical School
Why Duke Radiation Oncology?
The other residents! Our program has a great culture and we all enjoy spending time with one another. The training itself is comprehensive and well-balanced; there is a clear emphasis on resident education throughout the Department.
Why Durham?
Durham is a great place to live! It is a smaller city, so you have a nice mix of urban opportunities (good food, good music, performing arts, etc.), as well as easy access to the outdoors (hikes and lakes close by, the beach and mountains over the weekend).
What do you like to do outside of Duke?
I enjoy spending time with friends, playing tennis (and now pickleball...!), running, hiking and traveling.