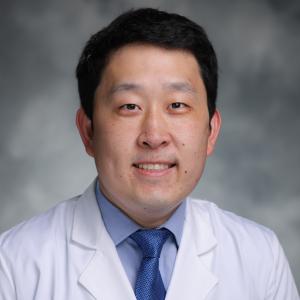 Resident, Radiation Oncology, Class of 2026
Hometown
Chicago, IL
College
Northwestern University
Medical School
Duke University Medical School
Intern Year
St. Francis Hospital, Evanston, IL
Why Duke Radiation Oncology?
I chose to stay at Duke for the RORS program, which was designed to foster future physician-scientists and to set them up for success and independence. A well-supported pathway to independence is perhaps the most important factor in avoiding the dreaded "zombie zone" and minimizing physician-scientist attrition. The RORS program is the ideal pathway for those who want to be independent physician-scientists in radiation oncology. In addition, my wife has a job at Duke, our friends from grad/med school are in the area and we love Durham/RTP.
What do you like to do outside of Duke?
Board games, hiking, church activities, traveling the world with and spending time with my wife.
What advice do you have for incoming residents?
Everyone starts at a different place in residency, but it is super important to have great co-residents and attendings to learn from and to support you along the way. Find a place (like Duke) that has this and don't be afraid to ask questions to understand why you are doing what you do clinically.