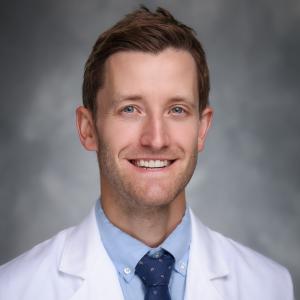 Resident, Radiation Oncology, Class of 2024
Hometown
Milwaukee, WI
College
DePaul University
Medical School
University of Utah 
Why Duke?
I chose Duke because it offered the complete package. A top-tier training program with strong basic science research in a really great and livable city. The faculty in the department, many of whom are leaders in the field, make teaching and learning a priority, minimizing scut work and maintaining a culture of collegiality. With high volumes, there is no shortage of hands-on learning at Duke, but busy clinic days are balanced by protected academic days for reading and self-study.
Why RORS?
Basic science research was a big part of my decision to come to Duke. Not only is it home to some of the most prominent and prolific radiation oncology physician scientists, the residency leadership is passionate and committed to training the next generation. This means highly protected research time, dedicated research funding (through a unique R38 grant) and strong mentorship that continues beyond the four-year residency into a clinical instructorship position at Duke. This is most direct path to an independent lab and research-focused academic job in radiation oncology in the country.
Why Durham?
Durham is an amazing place to live. It has everything you want in a big city (great restaurants, bars/breweries, diversity, etc.) with the convenience and affordability of a small town. My wife and I own a house 10 minutes from the hospital, next door to a park, a mile from downtown and on a trail system that goes for miles. As a runner and outdoor enthusiast, the climate is incredible and there is always something to do even when the world is shut down by coronavirus. And when you really just need to escape, the mountains and ocean are a short drive away easy for weekend trip.
Hobbies
Running, hockey, skiing, golfing, surfing, exploring new places with my wife and dog