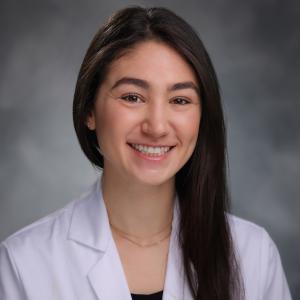 Resident, Radiation Oncology, Class of 2024
Hometown
Rockville Centre, NY
College/University
Duke University
Medical School
Wake Forest School of Medicine
What were you looking for in a residency program?
A supportive, well-balanced environment that offered unique and diverse opportunity for clinical research.
What are the strengths of Duke's residency program?
The faculty has been so approachable and take time to teach or discuss your decision making process. My resident colleagues are supportive of each other and are very successful while maintaining a great work-life balance.
What advice do you have for incoming residents?
Starting residency is a difficult transition for anyone, so it is important that you remember that it is okay to ask any and all questions! It makes you a more confident physician and a stronger team member.
What do you like best about living in Durham and the Triangle?
The food! Durham, Raleigh and Chapel Hill all have incredible restaurants, with cuisine from all over the world. I also really love having easy access to the outdoors. There are hiking trails and rivers all over the place, which is my favorite way to decompress. You are also equally distant from mountains and beach, which makes for great weekend or day trip options! Durham is a relaxed, easy place to live with a ton of options for things to do in your free time.
What do you like to do outside of Duke?
I enjoy spending time outdoors, running, hiking, trying new restaurants, rollerblading, baking and hanging out with friends!