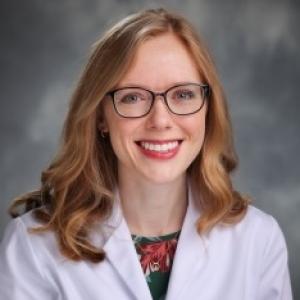 Resident, Radiation Oncology, Class of 2025
Medical School
University of Arkansas for Medical Sciences
Intern
University of Arkansas for Medical Sciences
What are the strengths of Duke's residency program?
Duke offers excellent training with high clinical volume and a wide spectrum of cases to ensure we are prepared to transition to independent practice. The unique experience at the Durham VA allows us to practice essential technical skills and feel comfortable with all aspects of radiation oncology. Our co-residents are brilliant, fun and always there for support.
What advice do you have for incoming residents?
Be curious, build relationships with your colleagues and be a source of comfort and information for your patients.
What do you like best about living in Durham and the Triangle?
Durham is a fun and easy place to live. I live in a historic neighborhood close to campus that is within walking distance to restaurants, parks and downtown. There are a variety of innovative restaurants that focus on local goods and frequent live music. There are also a lot of opportunities to spend time outside, whether that's biking, hiking or just hanging out on patios.