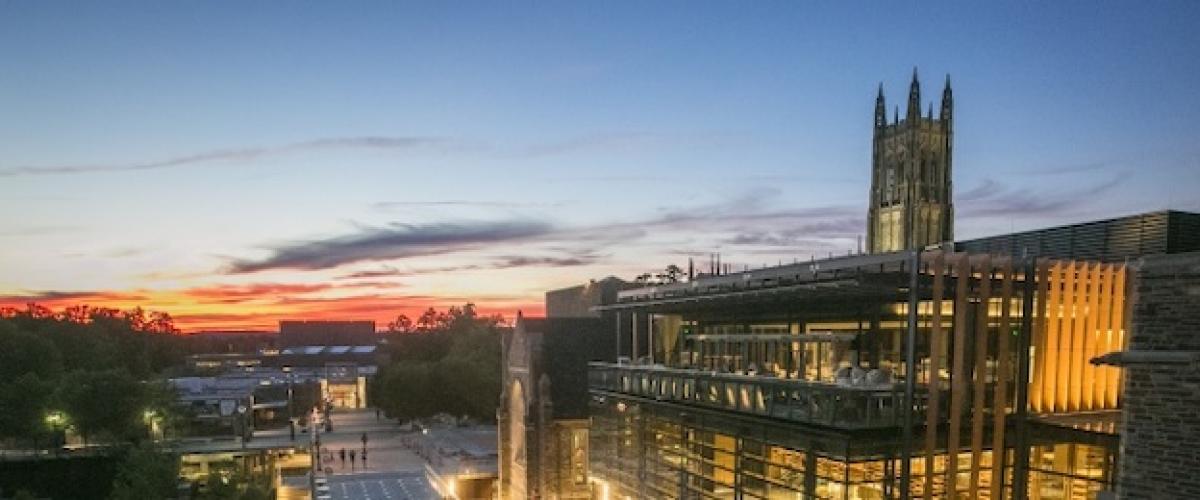 Radiation Oncology Residency Overview
Residents treat patients at the Duke Cancer Institute, on the Duke Medical Center campus and at the Durham Veterans Administration Medical Center, which is within walking distance.
Radiation Oncology allows residents a chance to really get to know their patients. They will follow the same patient from initial consult, therapy planning and through several weeks of daily treatments.
Rotations
Rotations are in 3-month blocks. At the Duke Cancer Center, there are 7 different radiation oncology services dedicated to specific disease sites. Residents will rotate one or more times in each of the 7 clinical services. Some of the clinical services are combined into a joint-service rotation.
GI

CNS

Breast

Lung/Lymph

GYN

H/N

VA

GU-Peds/Sarc
While the radiation oncology clinic at the Durham VA is generalized, the majority of cases include lung, head and neck, GI and prostate cancer. Traditional track residents will rotate at the VA 3 or more times, at successive levels in the program. RORS track residents will rotate at the VA at least once in their first 2 clinical years.
Traditional track residents are assigned to scholarly activity in their 3rd year for 12 months, while RORS residents will typically start their scholarly activity in their 3rd year for 21 months.
Typically in each rotation, there is 1 resident assigned to each of the 6 Duke clinical services, 3 residents assigned to the VA and 3 residents assigned to scholarly activity. The order of assignments to clinical services will vary for each resident.
Sample Schedule
| Program Year | Rotation 1 | Rotation 2 | Rotation 3 | Rotation 4 |
| --- | --- | --- | --- | --- |
| 1 | Breast Service | Lung/Lymphoma | VA | GYN/Sarcoma DK |
| 2 | CNS/Peds NL | VA | Head/Neck | GI |
| 3 | Scholarly Activity | Scholarly Activity | Scholarly Activity | Scholarly Activity |
| 4 | VA | Elective | GI | Elective |
Traditional Radiation Oncology Residency
36 months clinical activity
12 months protected scholarly time for individualized resident-driven, translational and/or laboratory based project
The Radiation Oncology Research Scholar Track 
Designed to facilitate the growth of independent laboratory based physician scientists
Integrated residency and post-residency instructorship, including 21 months mentored research during residency and 24 months mentored research after residency
Call Schedule
Residents are assigned to evening and weekend call for a week at a time, paired with an attending. During this week, the residents cover the Durham VA Medical Center and Duke University Hospital (located across the street from each other). On call residents are expected to see new consults, follow-up on inpatients and outpatients with active urgent issues and treat patients needing urgent/emergent radiation treatments together with the on call attending.
Typical call distribution is PGY5: 1 week + 1 week buddy call, PGY4: 3 weeks, PGY3: 5 weeks, PGY2: 5.5 weeks.
Cancer Biology/Medical Physics
Residents must complete formal courses in Medical Physics and Cancer Biology. These courses alternate each year and are taught from September through April, typically from 4:30-6 p.m. Topics in each course are updated to meet the training requirements set by the American Board of Radiology.
Cancer Biology is taught as a joint program between the Duke and University of North Carolina Radiation Oncology Departments. The course has been so successful that residents from other institutions have joined, including North Carolina State University, Wake Forest University, Allegheny General Hospital, Dartmouth Cancer Center, and State University of New York Upstate (Syracuse).
Morning Conferences
The Department of Radiation Oncology holds educational activities every weekday morning from 8-9 a.m. Residents direct the educational content themselves, and the Chief Residents schedules speakers and topics. Chief Residents are encouraged to develop their own program of Morning Conference topics to meet the clinical learning needs of the residents.
Resident Report – Resident leads practice-based sessions on specific types of cancer and the most current guidelines for treatment
Journal Club – Resident leads discussion of articles from leading cancer journals, especially The Red Journal
Mortality/Morbidity (M&M) – Resident-leads review of specific cases where significant toxicities occurred
Faculty Lectures – Department faculty present a series of interactive lectures focusing on their cancer specialty
Tumor Boards/Chart Rounds – The pathology and treatment regimen of current cases are discussed at multimodality conferences in other departments such as GU, H&N, Sarcoma and the VA
Grand Rounds – Eminent faculty in Radiation Oncology are invited to visit Duke
Simulation Training – Skills-based learning in the Duke School of Medicine Simulation Lab
Oncoanatomy – Unique program at Duke Radiation Oncology in which a resident leads a didactic session on the types of cancers that invade particular anatomic sites; a following session is held in the Gross Anatomy Lab
Evidence Based Medicine and Medical Ethics – Taught as short courses during Morning Conference time
Misc.: Updates on clinical practices in dosimetry, treatment planning, medical physics, patient safety, etc.
Other Educational Opportunities
Visiting Professors – Residents discuss cases with eminent radiation oncologists invited to Duke, plus attend dinner and lunch with the invited speaker
Chairman's Rounds – Residents meet with the Radiation Oncology Department Chairman to discuss cases and the clinical application of current research
Duke Cancer Institute Grand Rounds – Residents attend monthly invited speaker series and interact with attendings and trainees in other cancer disciplines
Retreats – Annual conferences with specific focus such as cancer biology research, medical physics research or patient safety improvement.
Diversity and Inclusion Speaker Series – Residents meet with eminent radiation oncologist experts in diversity and inclusion topics invited to Duke
Radiation Oncology and Imaging Program (ROIP) – The Duke Cancer Institute hosts a series of special programs on current advances in imaging for radiation therapy
Duke GME Graduate Medical Education Medical Education Leadership Track (MELT) – This program provides critical content to better prepare physicians for practice in the current and future health care system. Duke Radiation Oncology Residents who have completed this track include Daphna Spiegel, MD; Daniel Tandberg, MD; Sarah Jo Stephens, MD; and Jeremy Price, MD, PhD.
Every week, there are numerous presentations, research retreats and seminars offered throughout Duke University Medical Center and the nearby University of North Carolina at Chapel Hill. In addition, Duke's Schools of Law and Business host special presentations and seminar series addressing legal, ethical and financial concerns in the field of medicine. 
Visiting Student Program
We are sorry to report that due to COVID-19, the Visiting Student Program has been suspended. We will update this site with information when available.