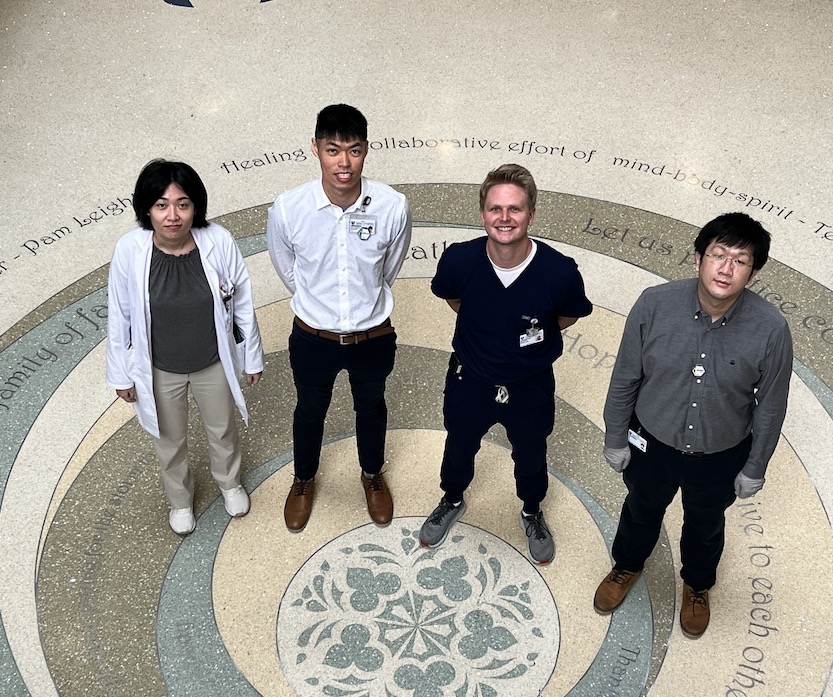 From left to right: Xinyi Li, PhD; Kai-Cheng Chuang, PhD; Brett Erickson, MS; and Ke Lu, PhD
Second-Year Residents (2022-2024)
Brett Erickson, MS: "What I find most interesting about working at Duke is the wide variety of knowledge at your disposal. There is a lot to learn in a clinical environment and everyone in the Department is happy to teach. The Department is divided into teams of differing expertise and all of the teams encourage extensive resident involvement. In my spare time, I enjoy reading, listening to music, watching sports, being active and being outside."
Ke Lu, PhD: "After completing my PhD degree in medical physics, I joined Duke medical physics residency as a first-year resident. I'm particularly impressed by the collaborative atmosphere and extensive clinical exposure that Duke provided. Besides the residency training, I'm a photographer in my spare time."
Recent Graduates (2019-2023)
Ruilin Li, MS: "My training experience at Duke has been absolutely amazing. I love the wide array of treatment techniques and special procedures that are performed at Duke. More excitingly, our physicists are experts in their fields and specialties,hich gives us tons of opportunity to explore and learn! Outside of clinic, I spend my time on reformer Pilates, reading and a variety of arts and crafts."
Wentao Wang, PhD: "The residency program at Duke offers a great selection of clinical training topics. The Department's many staff and faculty provide excellent guidance and support for our residency training. There are ample opportunities to do hands-on clinical tasks as well as research, and the workload is never too stressful for me. The low living cost and convenience of Durham is amazing, with plenty of fun indoor/outdoor activities and good restaurants just a short drive away. I like to stay active in my free time, such as working out in the gym, kart racing and playing tennis."
Thomas Cullom, MS: "It has been my pleasure to begin my residency training here at Duke. As a new resident I have benefited from the busy clinic schedule and the wide array of treatment techniques that are performed at Duke. There is always opportunity for residents to work with other physicists to explore different topics or treatments that interest them."
Yibo Xie, PhD: "I'm really enjoying my clinical training in the Duke residency program. Starting the residency during the pandemic is not easy, but I'm still getting comprehensive mentoring from dedicated physicists, dosimetrists and therapists on different clinical-relevant topics. "
Laza Rakotondravohitra, PhD: "The Duke residency offers an outstanding clinical opportunity for future independent medical physicists. I enjoy the interactions with the all the experts in cancer care. The mentorship and supervision are from physicists with diverse expertise and with many years of experience, as well as from younger experts keen to recent technology. Above all, the residents are encouraged to always interact with patients that we are caring for, participating in the treatment course from beginning to end."
Yana Zlateva, PhD: "I feel very fortunate to be completing my residency at Duke. The training is comprehensive and of high quality, there are many research opportunities and Duke people are happy, friendly and extremely helpful and knowledgeable. Moreover, Durham, NC, is a beautiful, diverse city with interesting culture and history. I have very much enjoyed my time here and I am confident this experience is preparing me for both clinical and research success."